Poetry
André's two published collections to date are Natural Causes (Shoestring, 2003) and Mixer (Egg Box, 2005).  His third collection, Blood Rain, will be published by Seren in February 2020.
His poems have appeared in many magazines, newspapers and journals in Britain and America including The Spectator, New Statesman, Times Literary Supplement, The Dark Horse, Sunday Herald, Daily Express, London Magazine, Rattapallax and Chiron Review. They have also won prizes in leading competitions such as the Bridport, Wigtown/Scottish National and Blackwells/TLS.
He has been a finalist in both the Hammer & Tongue and UK Allcomers Slams and read at the  StAnza International Poetry Festival, Cambridge Wordfest, LSE Arts Festival, the Poetry and Troubadour Cafés in London and the Dartington Literature Festival. For many years he was also a member of the performance group The Joy of Six which played at leading literary festivals across England and Wales, and in New York.  Described as "a rollercoaster of emotions" and by the late Adrian Mitchell as "like a great jazz quintet, only with voices", you can see archive footage of their sell-out event at the Cambridge Wordfest at the foot of this page.
Mixer

In the first poem a bartender opens up a bar at the start of the evening, in the last another closes up in the early hours – while in-between are 40-odd poems where an array of different voices/drinkers tell their own or others' stories: bizarre, tragic, moving, often laced with wry humour.  Each poem is named after a cocktail followed by the recipe.
Critical responses
'Mixer' seems to me a very special book.  I find myself returning to it often, shoving it into my pocket etc.  I do hope it gets noticed. (Hugo Williams)
A glorious book – he looks through a glass (or bottle) brightly at so many aspects of humanity … great premise, excellent execution. (Alicia Ostriker)
This collection explores the often indefinable mix of motives, hopes and dreams/nightmares which charge our lives.  From celebrities like Dylan Thomas and Hart Crane to clandestine lovers in SW1 and oil-men in Alaska, André's incisive wit draws the reader to the heart of each poem.  Sip slowly and enjoy! (Poetry World newsletter)
Welcome, Stranger
When she woke up saying
I could murder a beer,
the pint-sized dancer
who'd never touched booze
but whose freshly-stitched chest
now beat with the ticker
of a Harrogate bouncer
when the guy who had held
every chauvinist view,
but newly plugged in
to the strait-laced heart
of a primary-school teacher
now lay down his paper
and smiled open-faced
as his wife had her say
both scientists and surgeons
were stumped for an answer,
went scurrying back
to their notes on the donors
while two bemused partners
wondered just where and how
their soulmates had gone –
who it was they were holding,
kissing, sleeping with now.

Natural Causes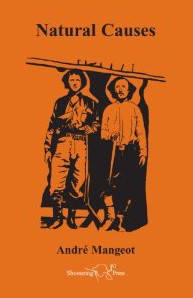 André's first collection.  Arranged in three sections, 'How Things Work' contains several poems about manual work and workers; 'High Pressure' focuses on a family under stress, how passion can shift over time from exhilaration to destructive force; while the final section, 'Natural Causes', contains various takes on our shared mortality, from the streets of Leeds to El Salvador, a coroner's inquest to an Arizona graveyard.
Critical responses
A wonderfully varied collection … assured, strong, stylistically confident. (The Frogmore Papers)
You should read André Mangeot's Natural Causes if you care: care about the environment, about violence between men and men, men and women, executioners and the executed.  These are curt poems by a streetwise writer where every word tells…driven by an unashamed passion for the underdog.  His eye is acute – for poverty, violence, the cruelties of love, and for the violent speed at which we all live. (Prof R.V Bailey in Envoi)
His skill as a storyteller feeds into these poems of passion and loss.  He's a master of the scarifying moment, economically grasped. (Herbert Lomas)
A complex and nuanced observer of a contemporary human experience which tells us something of the universal, and in doing so sets up its own allusive style. (Poetry Nottingham)
A very impressive collection …and a voice of which, I feel pretty sure, we shall hear a great deal more. (George Szirtes in Dream Catcher)
Billy Poole
Even at seven the cloudless overhead jabs
its weight, pale and brutal as a prizefighter
on Billy Poole, underdog and challenger,
pounding hard through two-mile fields of flax
to make the yard-shade blowing, shiny, bluish
with a sweat like bruising, slumping down
then staring wildly round as if for seconds
with an icepack, dripping sponge, the crack
of towel-breeze, slap of Vaseline or spit
of words to get him through another round,
another day of digging ditches, mucking out
or lugging bales in flat-iron heat for hirers
locked to a medieval wage, backing fenmen
into corners, onto ropes – and them still taking it.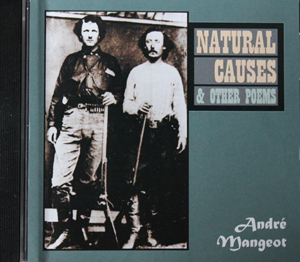 To purchase a copy (£10 incl p&p) please email André via the Contact page
A high-quality studio recording of André reading twenty-eight poems: twelve from his first collection, Natural Causes, along with sixteen other poems written in the same period.  Includes an extended introduction where André reflects on the value of poetry, its relevance and healing power.
André performing two poems at Creative Cabaret, Cambridge:
Here is a recording of The Joy of Six performing at Cambridge Wordfest: